Men of Circumstance Book One – Available on Amazon Kindle
Gabriel St. James, Duke of Wesbrook, desires any birthright other than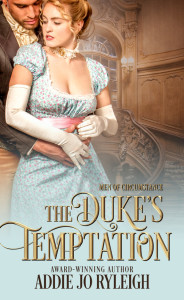 being the son of a hideous man. Unfortunately, Gabe knows the exact moment he became like his father—a night that has haunted him for seven years. Resigned to his future, he is unprepared when his illegitimate—and more importantly unbeknown—young daughter appears on his London doorstep. With no one to care for her but him.
Lady Elizabeth Blakely has loved only one man—her brother's longtime friend, Gabe St. James. Not even his rakish and, oftentimes, wicked behavior dissuades her. Yet it all seems hopeless as he continues to overlook the woman she has become.
When Elizabeth learns Gabe is in need of assistance with his daughter, she seizes the opportunity. Gabe, less than thrilled with the situation—mostly due to his fierce desire for his best friend's sister—has no option but to concede. Besides, a more sinister threat lurks; someone is blackmailing Gabe with his darkest secret. Through it all, Gabe vows to resist Elizabeth, no matter how tempting.
Sometimes it's better to surrender . . .

Excerpt
At the mention of the servants, Elizabeth became aware of the collection of eyes on her and Gabe. They must have gathered in preparation of their arrival. Before embarrassment from her outburst settled over her, Gabe grabbed her arm and ushered her into a room off the hall.
More angered with his handling of her than relieved by his rescue, she confronted him the moment they stepped into the room, pulling her arm free. "What do you think you are doing?"
The door clicked shut behind him. Her eyes flew to the wooden barrier, then back at Gabe.
"Don't worry," he growled. "Your reputation is safe. If nothing else, my staff is loyal and won't think twice about a closed door." He walked past her, further into the room. "Besides, I saved you from spouting more nonsense in front of my servants."
"Saved me? Saved me?" she raged, swinging to face his retreating back. "How dare you! You ignore a simple, reasonable request and I'm the one spouting nonsense?"
He pivoted so suddenly that she took an involuntary step back. "What about your demand was reasonable?" Like a predatory cat, he continued to advance on her. Not about to accept defeat, she planted her feet, prepared to stand firm.
"A child's place is in the nursery. The sooner Phoebe becomes accustomed to that, the better."
His insensitivity to the child's needs astounded her. "Now—after a week of ignoring your daughter—you've decided to try your hand at being a father."
Anger flashed in his eyes and he roared, "Exactly! I'm her father. Me. Not you. Let us not forget why you are here."
She matched his fury with her own and closed the remaining distance separating them, so close that her dress covered the toes of his boots. "You could have fooled me. Your cronies have seen you more than your own daughter has. When have you taken a moment to teach Phoebe anything?" She knew her words were unfair the moment they left her mouth, but she was too incensed to stop. "As you so kindly pointed out, I am here for a reason, and that is to ensure proper care for Phoebe. Something you yourself admitted you are not capable of doing."
Elizabeth poked a single finger into his hard chest. At her touch, his eyes flew wide, before they narrowed, almost menacing. "If you want what is best for your daughter, you are going to listen to me—and my silly requests. Do you understand?"
"Oh, I understand all right. Now, let me make sure you understand." He lunged forward, forcing her to scramble—either that or fall on her bottom. "If you continue to provoke me—" Another step, as she retreated. "Continue to push me—" One more step forward, and she backed right into the closed door.
His muscled frame leaned into hers. "Continue to dictate to me, I'll have no choice but to demonstrate to you exactly who is in charge."