It is officially release day for ONCE UPON A LADY!! 🥂
As I've me mentioned before, I took a detour from finishing book three in the Men of Circumstance series to join a project headed by my fabulous editor Char Chaffin and her equally fabulous writing partner Cheryl Yeko. The Soul Mate Tree Series is a collection of novellas that cross various romance genres but all surround the soul mate tree.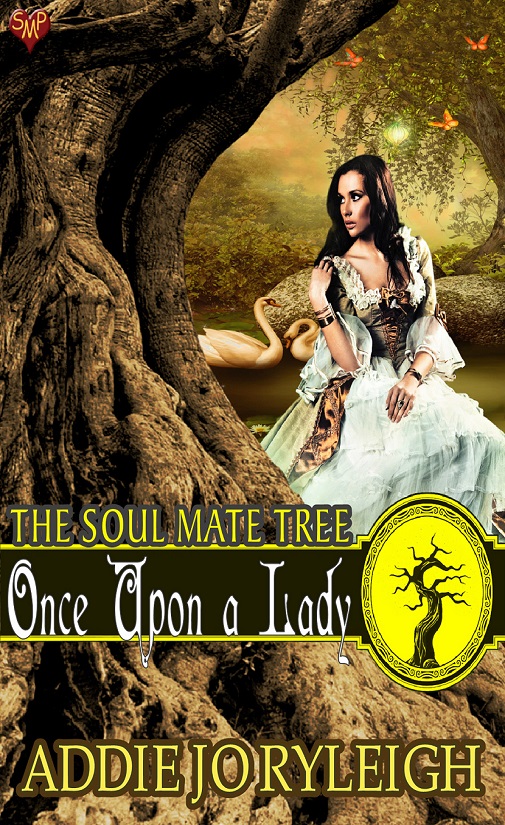 The legend of the soul mate tree:
I am old, I am ancient, my purpose is clear
To give those who are needy a treasure so dear.
They who come to my roots, touch my bark, stroke my leaves
Find the soul of their lives if they but believe.
When I call and you listen, your prize will be great
If your heart remains open and you don't hesitate.
Do you yearn? Be you lonely? Is your time yet at hand?
Reach for me and I'll give to you. I'm yours to command.
For your trust, for your faith, keep my secrets untold
And I'll gift you forever, to have and to hold.
An ancient legend spanning eras, continents, and worlds. To some, it's nothing more than a dream. To others, a pretty fairy tale handed down through the generations.
For those in critical need of their own happy ending, a gift.
Respectable Lady Katherine Baxton, striving to meet the requirements of her station, has become the ultimate dutiful daughter. And now, the Duke of Blackthorn's betrothed. Far from a love match, Kate is nevertheless determined to do as expected and marry.
That all changes the night she panics at her impending future and runs, stumbling upon a private grove, a mysterious tree . . . and a half-naked man.
The youngest son of a viscount widely thought to have purchased his title, Jackson Cooper demonstrates his disdain for the aristocracy by affording himself every luxury available—drinking, wenching, and gambling—while eschewing anything representing the ton. Jackson has little care for his reputation and no desire to marry. His escape from London is all but complete.
Until fate—in the form of a beautiful, mysterious lady—interrupts his plans, enticing him with the very thing he never wanted.
AMAZON BUY LINK: https://www.amazon.com/dp/B073ZL3MGN
Book Trailer for The Soul Mate Tree: https://youtu.be/VjxyyD3TVoA
Trailer for ONCE UPON A LADY: https://youtu.be/9dTCinBMS3k
EXCERPT:
Kate felt his approach before she saw him. Which wasn't all that surprising since her body had remained mindful of his presence. Fighting the impulse proved fruitless.
When his tall frame blocked the sun and cast her in shadow, she knew besides giving him a direct cut, she had no escape. If only she hadn't ventured from her sister's side. At the time, abandoning Helena had been her singular option since their slow stroll through the gathering had traveled too close to the very man standing beside her. She'd been delaying the inevitable.
Kate was now alone, as she tried to keep her attention on the lawn activities before her, hoping no one would witness what was about to happen.
"Aren't sprites confined to the trees?" His deep voice washed over her.
She didn't turn to acknowledge him. "How nice to see you properly dressed for once."
His chuckle warmed her. "Are you following me?"
An unladylike snort refused to be repressed. "Hardly. You are rather difficult to overlook, being the only unknown face here."
"That's not true. You've seen my face . . . as well as other, more interesting parts."
Kate wished she'd listened to her sister and worn a bonnet. Anything to mask the heat flaring in her cheeks.
Thankfully he remained at her side and hadn't a clear view of her face. "We have not been introduced. I can't be seen speaking to you."
"Then let us go where we can't be seen."
Her heart raced at his boldness. Why was this man so tempting? She was spoken for, though still unofficially. Proper ladies didn't follow strange men to private locations, regardless of their marital status. "Absolutely not."
"Even if I have something of yours?"
Blast! Her ring. Given her luck lately, she would have lost it in the grove of all places. Her aunt would toss in her grave knowing Kate had misplaced her gift.
"A true gentleman would return it."
His deep laugh caused her pulse to flutter. "I'm no gentleman. Or haven't you heard?"