On Wednesday, as part of the Romance Writers Gone Wild week-long party, I revealed the cover for my upcoming novella. Now it is time to share with you 🙂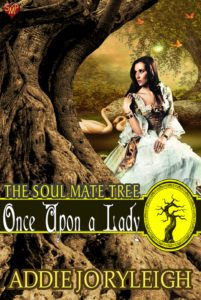 This is a new project for me (outside of my Men of Circumstance series). I'm super lucky to be part of an upcoming project from Soul Mate Publishing that will be packed with stories from thirteen amazing authors–myself included 😉 It will be a novella collection (a first for me). The book is so new, I'm still hard at work on it!
Once the project is rolled out, you will understand more of the meaning behind the cover…so keep your eyes and ears open! The collection is set to be released starting next January with ONCE UPON A LADY having a tentative release of November 2017!!
To hold you over…here is the tentative blurb–remember this is subject to change 😉

Lady Katherine Baxton has always been who her station required of her. A dutiful daughter. A respectable lady. And now, the Duke of Blackthorn's betrothed. Far from a love match, Kate is prepared to follow her duty and marry the duke. Until a need to escape the burden of her future, brings about a private grove, a mysterious tree that draws her in . . . and a half-naked man.
The youngest son of a man widely thought to have purchased his viscount title, Jackson Cooper has shown his equal disdain for the aristocracy by affording himself every luxury available—drinking, wenching, and gambling—while distancing himself from all things ton related. He has little care for his reputation and no desire to marry well. Or marry at all. All until a mysterious lady interrupts his pleasurable evening.
Firm in his decision to ignore the bedeviling sprite plaguing his every thought, Jackson's plight is further thwarted by his father threatening to end his allowance if he doesn't marry. Forced to heed his father's ultimatum for the time being, Jackson finds himself the last place he wants to be . . . Society. Determined to fulfill her duty, Kate is just as committed to ignoring the unmistakable force pulling her into Jackson's arms and away from her betrothed.
Will Kate forever be the dutiful daughter or succumb to the draw of Jackson?
Be on the lookout for more information on the
collection and the final release!!