Today I'm going to switch things up a bit. As much as I love writing books, I enjoy reading them just as much (a little obsessively actually). In honor of that, I've decided to add a new element to my Random Ramblings…guest authors.  And my first guinea pig-guest-is fellow Soul Mate author Anne B. Cole.
Today is a special day for Anne as it is release day for Souls Estranged, Book Two of The Souls Trilogy. It is also a special day for us since Anna is not only sharing her wonderful book but will be tempting our taste buds with a recipe that will satisfy your sweet tooth.
Anne, welcome to my Random Ramblings and thank you for being the brave first volunteer.
Thanks, Addie Jo for hosting me today! I'm very excited to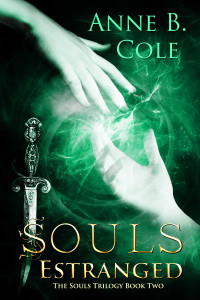 share Souls Estranged. Even though it is the second book of a trilogy, it is not necessary to read the first book to enjoy this one. Souls Entwined has Sam and Gretta time traveling, entwining their souls within two young lovers in 1829, in order to unlock the mysteries behind Gretta's cursed ring. Souls Estranged continues Sam and Gretta's story in the present. Spirits, curses, and settings in the purgatories are woven throughout, making Souls Estranged a romantic suspense with paranormal elements.
In Souls Estranged, Gretta loves to eat chocolate chip cookie dough straight from the fridge. My second daughter LOVES to bake chocolate chip cookies and we all snitch the dough sometimes. I know this is not a safe thing to do due to the raw eggs so we found this recipe for Chocolate chip cookie truffles. Easy and Yummy!
Chocolate Chip-Cookie Dough Truffles
Ingredients
1/3 cup butter, softened
1/3 cup packed brown sugar
1 tablespoon vanilla
1 cup all-purpose flour
1 cup miniature semisweet chocolate pieces
4 ounces dark chocolate or semisweet chocolate, chopped
4 ounces chocolate-flavor candy coating, chopped
1 tablespoon shortening
Directions
1. Line a 15x10x1-inch baking pan with waxed paper; set aside. In a medium bowl beat butter, brown sugar, and vanilla with an electric mixer on medium speed until combined. Beat in flour just until combined. Stir in chocolate pieces. Shape dough into 1-inch balls. Place on prepared baking pan. Cover; freeze about 30 minutes or until firm.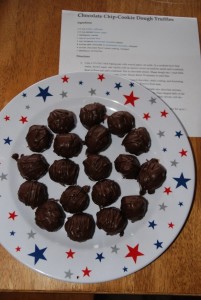 2. Meanwhile, in a small saucepan heat chopped chocolate, candy coating, and shortening over low heat, stirring until melted and smooth. Remove from heat.
3. Line a baking sheet with waxed paper. Using a fork, dip balls into chocolate mixture, allowing excess chocolate mixture to drip back into saucepan. Place dipped balls on the baking sheet. Let stand or chill about 30 minutes or until set. Lightly drizzle with the remaining melted chocolate mixture.
To Store:
Place truffles in a single layer in an airtight container; cover. Store in the refrigerator for up to 1 week.
This recipe makes about 26 truffles.
Here's a picture of my truffles!
I hope you enjoy the truffles and Souls Estranged!
BOOK BLURB:
"She fled to save him from the curse. Now she must flee to save herself."
Back from their adventures in Souls Entwined, Sam Daggett begins a new relationship with Gretta Dobbs, whose memories of their time traveling experience have been erased. Determined to never leave her again, Sam vows to help Gretta, despite the bad luck curse on her heirloom ring. Within hours of their return, tragedy strikes.
As Sam becomes the third victim of the bad luck curse, Gretta's memories of her time spent in the past begin to return. Unable to remember more than snippets, she realizes that anyone close to her is in grave danger. In order to keep Sam and her family safe, she flees in the middle of the night.
Finding the perfect summer job in the back hills of Virginia, Gretta unknowingly crosses paths with a serial killer. With guidance from their ancestral spirits, Roxana and Katarina, Sam desperately attempts to find Gretta before the curse strikes again.
EXCERPT:
Prologue
Sunday
Sam
In the dim morning light of the hospital room, Sam Daggett watched the little cat stretch its front paws before zeroing intense green eyes on him.
"Roxana?" He scrutinized the feline for the slightest twitch of recognition.
Nothing.
Doubting Roxana's spirit remained entwined within the gray and white cat, he moved his focus to Gretta Dobbs. She slept peacefully with her hand nestled in his. Neither of their families had returned to the hospital. Her garnet ring caught his attention and immediately a sense of foreboding crept up his spine.
His heart sped as images of his time traveling, out-of-body adventure with Gretta flashed through his mind. Roxana, Gretta's long-dead ancestor, enabled their souls to entwine within nineteenth-century lovers in order to gather information on the cursed ring. Pride, determination, and fear filled him.
"I'm so sorry we didn't find all of the answers we needed," Sam whispered as he lifted her hand to his lips. He watched her eyes and listened for the beep of the heart monitor to quicken, satisfied she remained in dreamland. "I know you don't remember our time together or what we've been through."
He shuddered at the memories. His gaze fell back to the ring. Frustration filled him. The urge to rip it off her hand pounded through him, but he remembered she remained cursed with or without the ring.
Control. I must control my emotions.
He refocused his thoughts on the present and relished in the gratitude of simply being in the same room with her.
A soft sigh escaped her lips and she squeezed his hand before slipping into a deeper slumber.
"With you, nothing is impossible." Careful not to bump his broken collarbone, Sam leaned closer and murmured, inches from her ear, "Brave and beautiful. Ready and willing to face pirates, spirits, and the horrors of the purgatories to end the family curse." His heart hammered in his chest as memories of seeking treasure, falling in love, and losing it all flashed within his mind.
"I love you, Gretta. I'll do everything in my power to earn your love."
Tracing his fingers over the back of her hand, he touched the face of the ring's oval red stone. He remembered every moment of their time together, while Gretta's memories had been erased. No matter how hard he tried, he couldn't prevent his thoughts from wandering. Concern prickled his skin as he recalled their quest to understand the ring's curses.
The most dangerous one, a curse of bad luck, remained a mystery.
He inhaled and pushed his failures away. "Katarina told me to keep my distance from you because of potential tragedy. Nothing will keep me away. I vow to protect and love you forever."
Gretta's grip on his fingers tightened. With her hand remaining in his, he brushed a stray lock of hair off her cheek. She released his fingers and nuzzled into his palm with a tiny sigh. He closed his eyes, content to be back in his own body and time with her.
Yet uneasiness crept deep within and the dreadful feeling of impending tragedy grew stronger with every passing minute.
BIO:
Souls Estranged continues The Souls Trilogy, combining supernatural suspense and sweet romance in a novel attractive to a wide range of readers.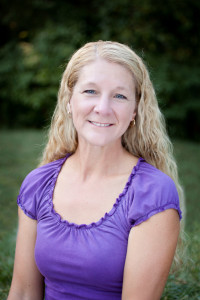 In addition to writing, Anne teaches preschool and is raising three very active teenagers with her husband of twenty-three years. Her hobbies include running so she can indulge in her cravings for ice cream, donuts, and chocolate chip cookie dough. She squeezes in time to read and write between practices, competitions, and meets. Her pet cat, Monster, keeps her company as she completes the final book of The Souls Trilogy, Souls Endure, tentatively scheduled to be released summer 2016.
Connect With Anne
To follow Anne's publishing journey and connect with her, check out her website and find her on Twitter and Facebook.
Trailer   Website   Twitter   Facebook
Click to see Souls Entwined Book One of The Souls Trilogy on Amazon.
Click to see Souls Estranged Book Two of the Souls Trilogy on Amazon.